Please note if you are using DSM7.2 or higher you should use the Container Manager version of this guide from the menu.
I have seen this asked quite a few times across Discord and the comments section, so here is the nice simple guide to updating your containers manually via the Synology Docker package.
You can also automate this using the Watchtower guide.
FAQ
When I update my container(s) will I lose all my configuration?

No, a container is designed to be disposable, if you have followed my guides or the documentation of the container all your configuration files should be on you local filesystem.
Step 1
Head over to the registry tab in the Docker interface, and search for the container you are looking to update.
In this example we are updating Radarr (make sure you are downloading the same image as you originally used)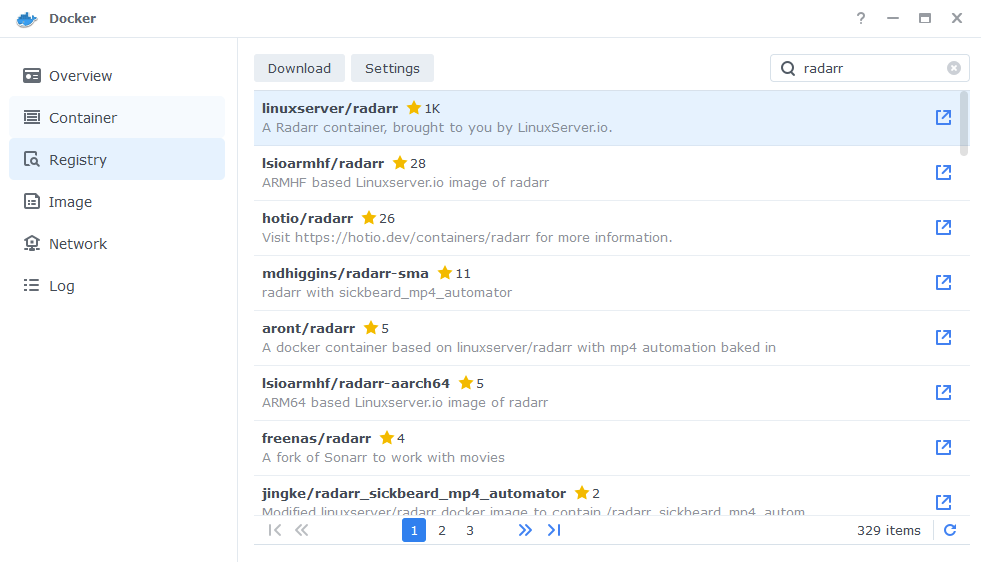 Click the download button and select 'latest' from the list of options (side note if you are updating Prowlarr it will be the 'AMD-64-Develop' option)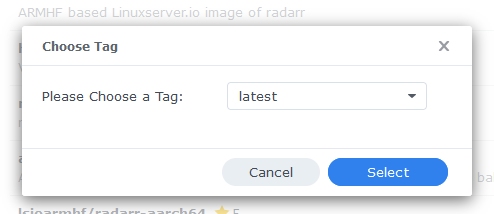 While the updated image is downloading move to step 2..
Step 2
Next head into the list of your containers on the 'Container' tab and stop any containers you are updating.

Once your new image has finished downloading (check in the image tab) move onto the final step
Step 3
Now we are going to initiate the update, select the container you are updating and either click on Action at the top of the screen or right click on the container and select Action from the drop down menu.
On DSM7 you will click the 'Reset' option \ DSM6 this is called 'Clear'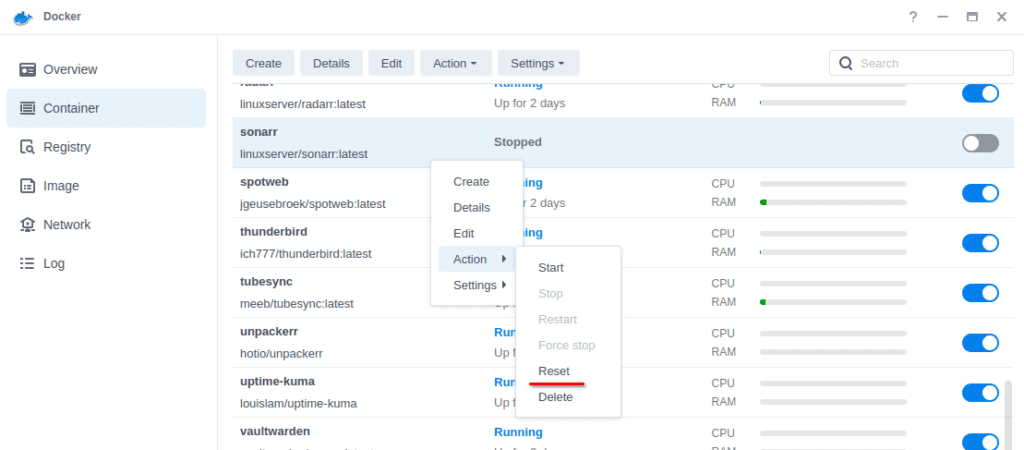 After a few seconds your container will vanish and then a few seconds later it will re-appear.
This has completed the update process and you can either manually start the container again, or if you have the auto start option enabled it will start up itself.
You will need to repeat this process for each container.
---
Buy Me a Coffee or Throw me some Sats
If you have found my site useful please consider pinging me a tip as it helps cover the cost of running things or just lets me get the odd beverage. Plus 10% goes to the devs of the apps I do guides for every year.