| Update | Date |
| --- | --- |
| New guide Published | 03/02/2022 |
| Updated with DSM7.1 steps and screenshots | 20/06/2022 |
| Added new port settings and Docker Bridge Network | 23/07/2022 |

What is Spotweb?
To quote the GitHub page.
"Spotweb is a decentralized Usenet community based on the Spotnet protocol."
It is essentially a self-hosted Usenet indexer that integrates with your favourite media managers such as Radarr, and I am going to walk you through setting this up in Docker on your Synology NAS
Lets Begin
The guide has 4 pages and will take around 30 minutes to complete, it is important you follow all the steps in order so take your time.
Page 1 – Download and Setup of the Docker Containers
Page 2 – Installation of Spotweb
Page 3 – Final Docker Changes
Page 4 – FAQ
Before we start with the main guide head over and follow the steps in the Docker Bridge Network guide.
---
---
---
Downloading the Spotweb and MariaDB images
Open up Docker within DSM and navigate to the 'Registry' tab, then search for 'Spotweb'.
In the list of available containers download the one made by jgeusebroek as shown below.

When the dialogue pops up asking you to choose a version, make sure you choose 'latest' from the list.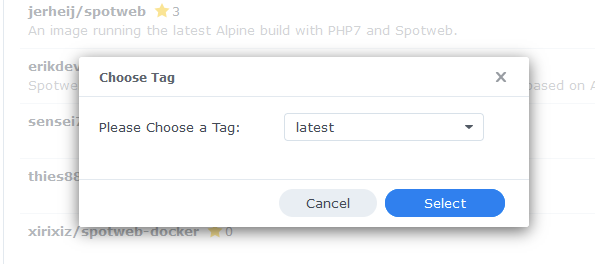 While the Spotweb image is downloading do another search for MariaDB as this is the database will we be using.
Again download the official version as shown below using the 'Latest' tag when asked.

---
---
---
Setting up the MariaDB Container
In Docker click on the 'Image' tab, in the list of your containers select the 'MariaDB' image and click on 'Launch'
The first screen will ask how you want to set up the Docker network, we will be using the default bridge network.
General Settings
Next you will be greeted with the General Settings screen, this is where you can start specifying some of your preferences.
You can change the name of the container to anything you like, and you will want to enable Auto Restart as this will ensure the database starts automatically if you reboot your NAS.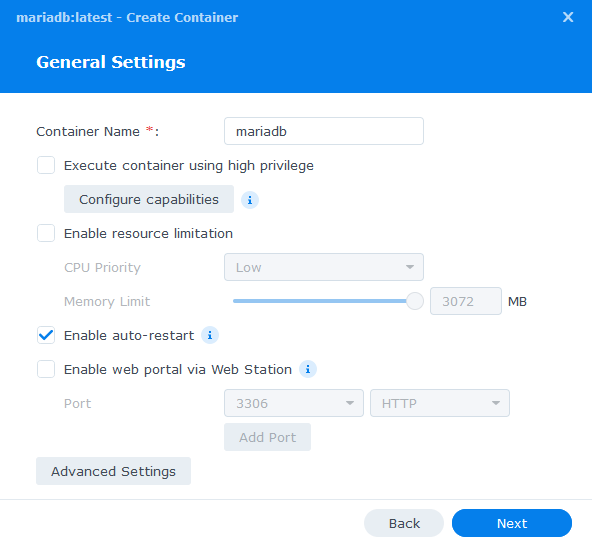 Next up we are going to click on the 'Advanced Settings' button, this will take you to a new window with a number of tabs which we are going to work through.
Environment
Next we are going to specify some variables that will tell MariaDB what to use for our credentials so Spotweb can access it.
Click the Add button, and fill in the following details as per the table/screenshot. Make note of these you will need them later!
| Variable | Value |
| --- | --- |
| MYSQL_ROOT_PASSWORD | You need to create a strong root user password |
| MYSQL_USER | enter a unique username |
| MYSQL_PASSWORD | enter a unique password |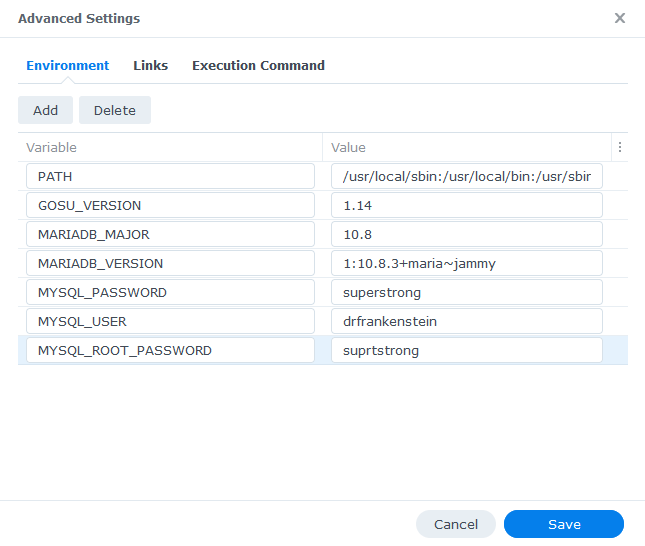 Links / Execution Command
You do not need to set up anything on these tabs.
Press 'Save' to go back to the initial setup screen, then press 'Next'
Port Settings
You will see that the Local Port has Auto in it by default, change this to 3306 then click Next.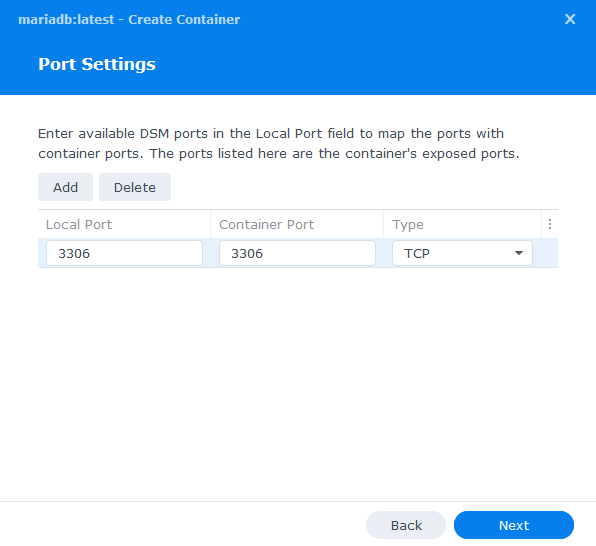 Volume Settings
We will now be specifying the directories where the database will be stored along with its config files.
Click on 'Add Folder' then select the 'docker' folder and create a new sub-folder called 'mariadb' click on this folder and click 'Select'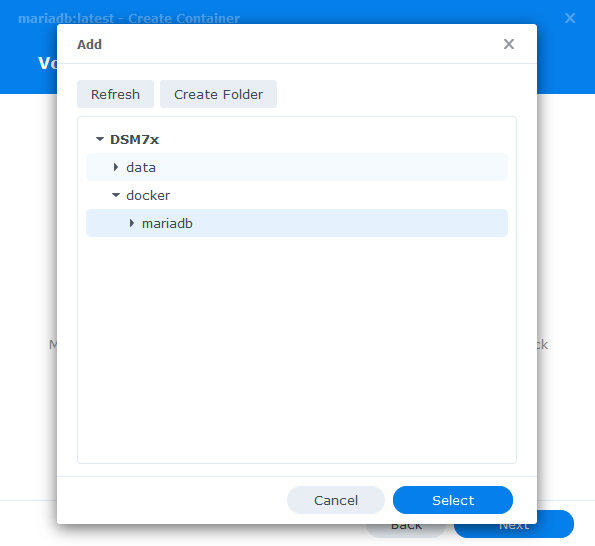 Now in the Mount Path box enter '/var/lib/mysql'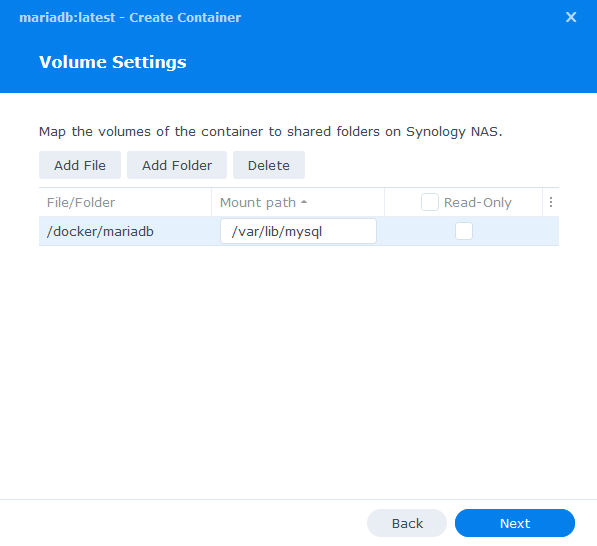 Summary
You have now completed the setup of the database. Click on Next to move back to the final summary screen, this is a good time to double-check everything is correct.
Finally, click on Done and the container should start to boot.
---
---
---
Setting up the Spotweb Container
We are now doing the initial setup and will be coming back to complete it later.
Head back into the Image tab and this time Launch the Spotweb image
You will be greeted with the Network screen, we will be using the 'synobridge' network we created earlier select it from the list and click Next.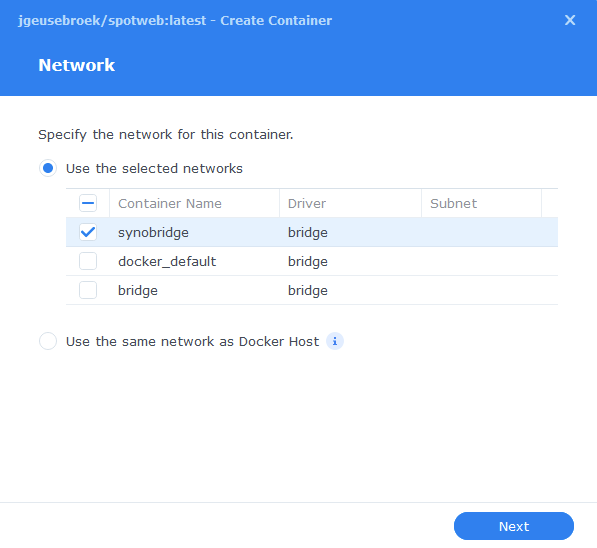 General Settings
Next you can rename the container and enable auto-restart to make sure Spotweb starts up with your NAS, then click Next.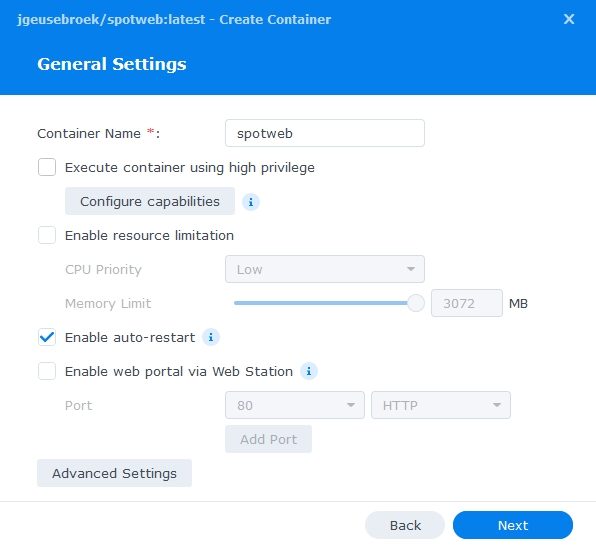 Port Settings
Spotweb wants to use port 80, we need to move it to an alternative port as this is reserved by DSM. Let's use 9096.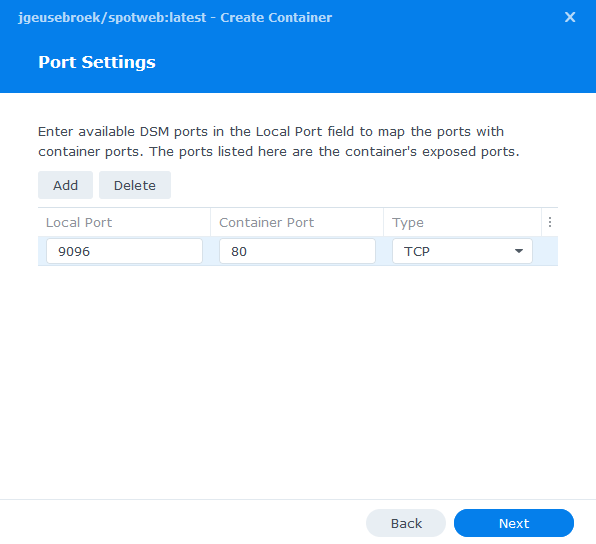 Click Next, you do not need to enter any information on the 'Volume Settings' page, click next again and then Click Done on the Summary to start the container.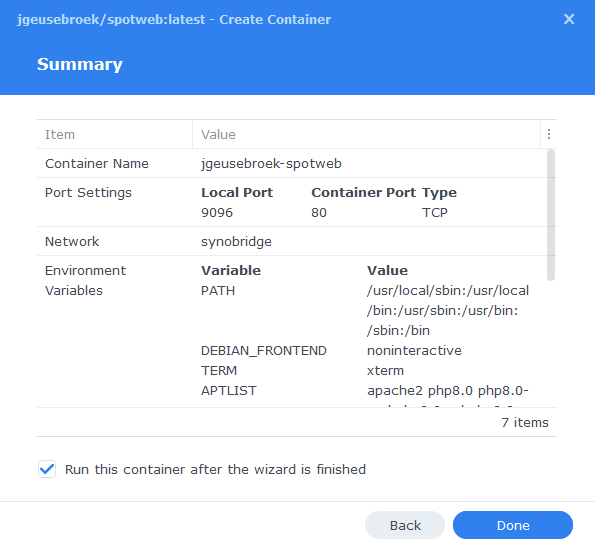 We will come back to add some additional settings a little later in the guide. You can now move on to Page 2.
---