Spotweb Installation
Open up a new tab in your browser and go to the address below, changing the IP address to the one used by your NAS.
http://yournasip:9096/install.php
Please note
1 – As you progress through the next screens you may get a blank screen when submitting a section. If this happens you will need to manually advance to the next settings page by changing the URL in your browser (I have noted the page numbers under each screenshot)

2 – If you receive an error on a page – the selections you made will reset so double check them before resubmitting the page.
Page 1 – Web Settings
You should see the screen below, confirming Spotweb is running.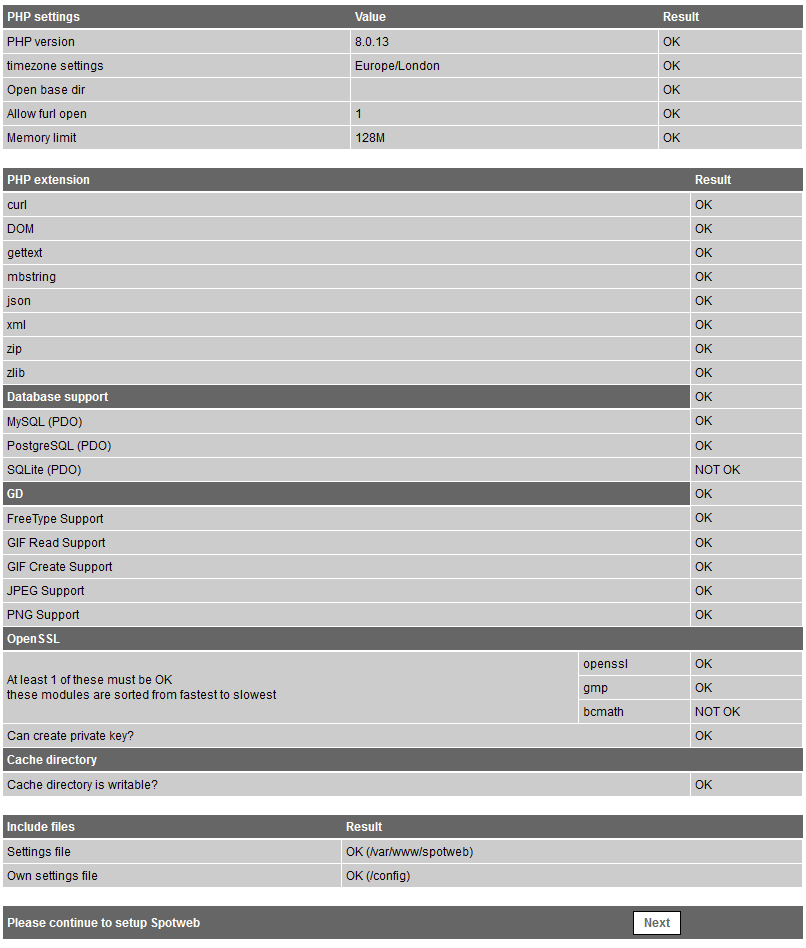 Click on 'Next'
Page 2 – Database Settings
You will be asked to fill in the database settings. Fill in all sections and remember if you used two different passwords for the Root user and your normal user enter them correctly.
| Option | Value |
| --- | --- |
| type | MySQL |
| server | IP address of your NAS |
| port | 3306 |
| Root Password | The root password you created earlier |
| MySQL database | spotweb |
| Database user name | The username you created earlier |
| Database user password | The user password you created earlier |

Now click 'Verify database' if the settings are correct you will move to the next page.
Page 3 – Usenet server settings
Next you will need to enter the details of your Usenet provider, there are a number of pre-defined options, if yours is not listed choose 'custom' (These will be the same connection details as used in NZBGet or SabNZBd)
Click on 'Verify usenet server' to check your settings are good.

Page 4 – Spotweb type
On the final settings page we are going to set Spotweb up for a Single user you can then fill in all the remaining sections based on your own preferences filling in all sections.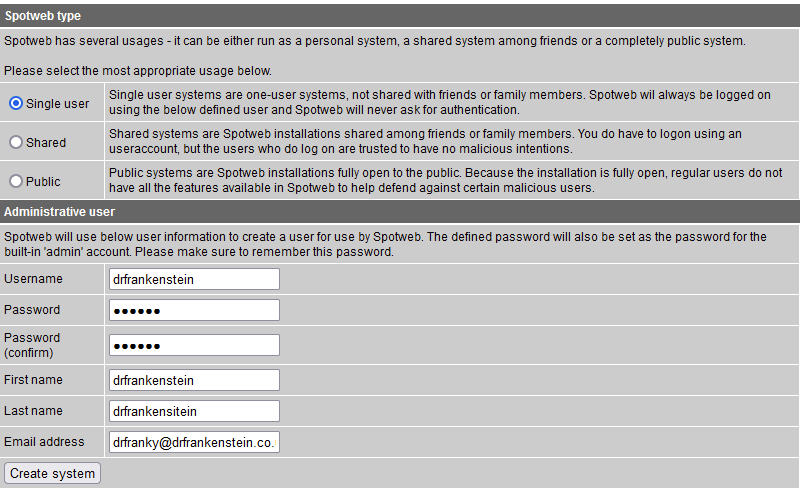 When you click 'Create system' the database for Spotweb will be created, You will then see the screen below.

While it's tempting to jump in and start using the main interface, don't yet! Close the tab and move on to Page 3 (almost done)
---