| | |
| --- | --- |
| Update | Date |
| New guide released | 23/02/2022 |
| DSM7.1 Update with new screenshots and steps | 27/05/2022 |
| Added some other useful variables to get the basics setup on a server | 23/06/2022 |
| Added new port settings and Docker Bridge Network | 23/07/2022 |
In this guide I am going to take you through the steps to get a Minecraft Bedrock server up and running in Docker on a Synology NAS.
What is the Bedrock Edition?
The Bedrock edition is the version used by all consoles such as the Nintendo Switch, Android, iPhone, and the Windows store edition. If you are looking for a JAVA edition see my other guide.
In order for you to successfully use this guide please complete the two additional steps below
Downloading the Container
Open up Docker within DSM and navigate to the 'Registry' tab and search for ITZG in the keyword box.

Within the results right click and download the 'ITZG|Minecraft-Bedrock-Server', When it asks which version number to download select 'Latest'
Setting up the container
Now we have downloaded the container and got hold of our user IDs we can move onto the next stage.
Go back into Docker and click on the 'Image' tab, in the list of your containers select the ITZG minecraft bedrock server, and click on 'Launch'

You will be greeted with the Network screen, we will be using the bridge network, this allows us to specify the ports we want to use.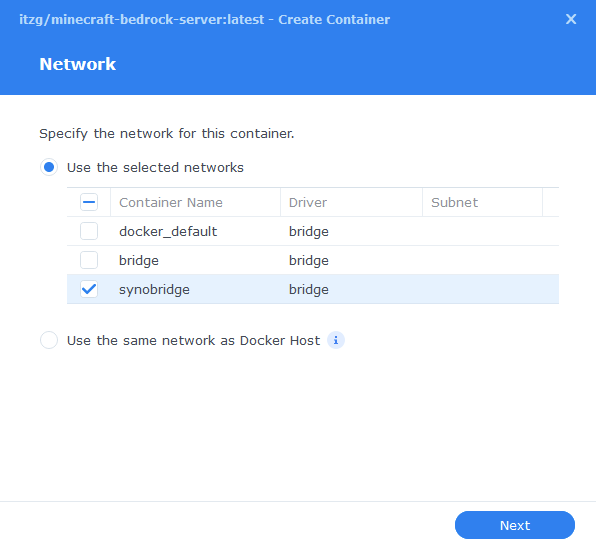 Next you will be greeted with the General Settings screen, this is where you can start specifying some of your preferences.
You can change the name of the container to anything you like, and you may want to enable Auto Restart as this will ensure the server starts automatically if you reboot your NAS.
We won't be change any of the other settings.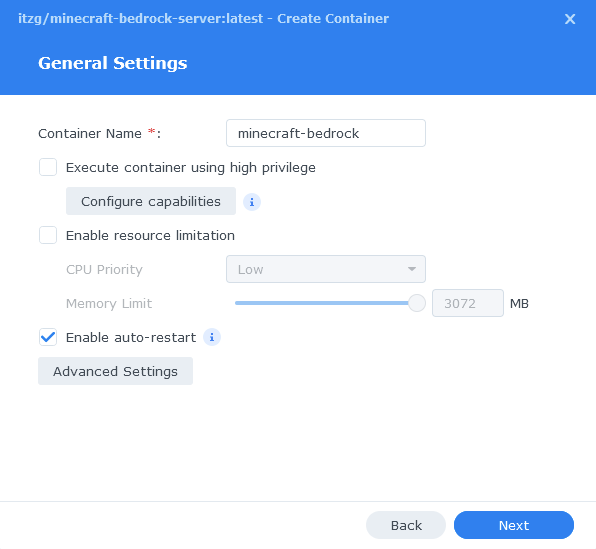 Next up we are going to click on the 'Advanced Settings' button, this will take you to a new window with a number of tabs which we are going to work through.
Environment
We are now going to set up the specific options for the server some of these will be set based on your preference.
Add each of the values below by clicking the 'Add' button at the top of the screen and then entering each of the values below.
These are the minimum settings I would use, you can see a full list on ITZG's GitHub including how to give permissions to your users. Take note that some items are UPPERCASE and some are lowercase. This is how they should be set.
Variable
Value
Comment/options
UID
YOURUID
UID you obtained earlier
GID
YOURGID
GID you obtained earlier
EULA
true
This accepts the Minecraft EULA, without this the server will not run
VERSION
latest
This keeps the server updated to the latest release.
You can also change this to a specific version such as 1.18.10 which is useful if Microsoft updates the server version before releasing new clients!
PACKAGE_BACKUP_KEEP
2
This specifies the amount of backup versions to keep
SERVER_NAME
DrFrankenstein Bedrock
Give your server a name
SERVER_PORT
19132
GAMEMODE
creative, survival, adventure
DIFFICULTY
peaceful, easy, normal, hard
ONLINE_MODE
true or false (true will require you to be signed in to Xbox Live when playing)
ops
yourxuid
In order to get your xuid you will need to visit this site enter your gamertag and select decimal in the options
WHITE_LIST_USERS
player1,player2,player3
The player names will be the xbox gamertags.
cheats
true or false
Links / Execution Command
You do not need to set up anything on these tabs.
Press 'Save' to go back to the initial setup screen, then press 'Next'
Port Settings
On this screen enter 19132 in the left-hand side of the page in the Local Port section and then click Next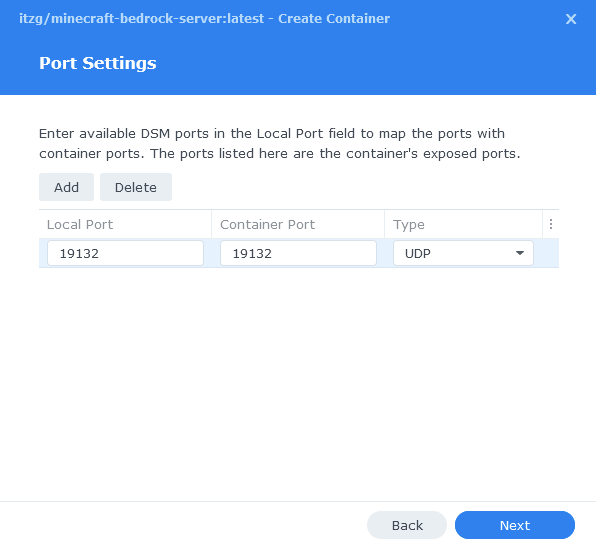 Volume Settings
We can now specify the directory where Minecraft will store its configuration files.
Click on Add Folder, click on the docker folder and create a new sub-folder called 'minecraftbedrock' select this folder and click 'select'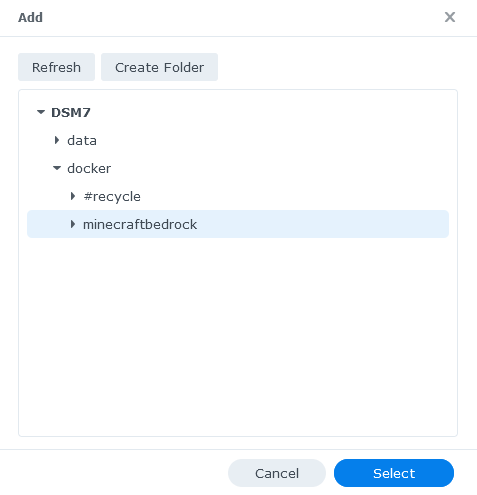 Now we need to specify where this folder will be mounted inside the container. As per the screenshot/table below, enter /data into the 'Mount path'.
| File/Folder | Mount path |
| --- | --- |
| docker/minecraftbedrock | /data |
Click on Next and you will be taken to an overall summary screen, just do a quick sanity check to make sure they are correct. If you want to launch the server immediately check the box and click on Done.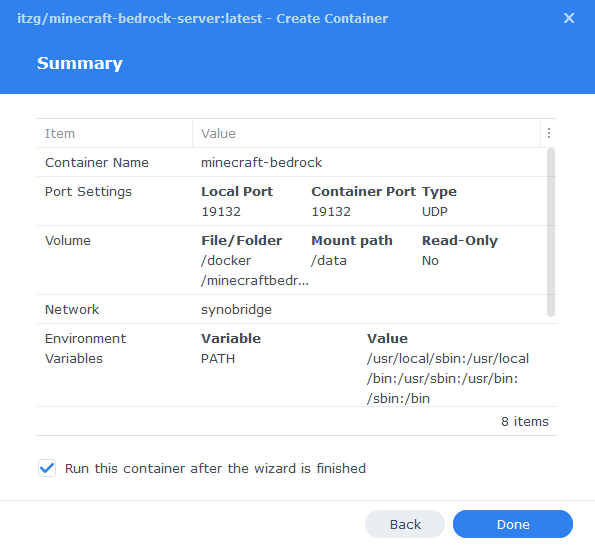 Server startup time
The first time the server launches it may take a few minutes for the server files to download and the world to be generated.
There are two ways to connect to the server, either via the Friends tab or by adding it manually to the Servers tab in Minecraft.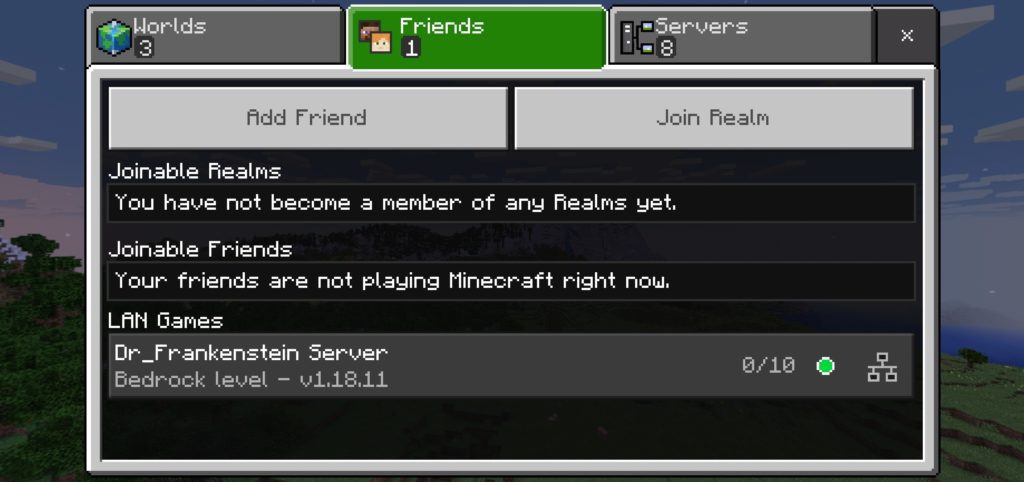 You are now all setup and ready to play…
---
---
Docker Compose
You can use the below code saved as bedrock.yml in '/docker/minecraftbedrock' which you will need to create, this will do the entire process above in one quick command via SSH.
See the Environment section above for the appropriate settings
version: "3.2"
services:
  minecraft-bedrock-server:
    image: itzg/minecraft-bedrock-server:latest
    container_name: minecraftbedrock
    environment:
      - UID=YOURUID
      - GID=YOURGID
      - VERSION=LATEST
      - DIFFICULTY=normal
      - GAMDEMODE=survival
      - SERVER_PORT=19132
      - ONLINE_MODE=true
      - SERVER_NAME=NAMEYOURSERVER
      - EULA=TRUE
    volumes:
      - /volume1/docker/bedrock:/data
    network_mode: synobridge
    ports:
      - 19132:19132/udp
    restart: unless-stopped
sudo docker-compose -f /volume1/docker/minecraftbedrock/bedrock.yml up -d
---
---
Throw me some bits or buy me a coffee?
If you have found my site useful please consider pinging me a tip as it helps cover the cost of running the site, you can even buy me a coffee 🙂
Doge / Ethereum / Bitcoin