Important or Recent Updates

| Historic Updates | Date |
| --- | --- |
| Rewrite for Container Manager on DSM7.2 | 08/07/2023 |
| Added an addition element to the compose to restrict the container from gaining additional privileges | 21/10/2023 |
| Added umask variable | 25/10/2023 |

Historic Updates

What is Tautulli?
Tautulli is a 3rd party application that you can run alongside your Plex Media Server to monitor activity and track various statistics. Most importantly, these statistics include what has been watched, who watched it, when and where they watched it, and how it was watched.
Let's Begin
In this guide I will take you through the steps to get Tautulli up and running in Container Manager. We will be using the new Projects (Docker Compose) feature to get this running as it will save you time vs manual setup using the normal UI
In order for you to successfully use this guide please complete the preceding guides.
Folder Setup
Let's start by getting some folders set up for the containers to use. Open up File Station create the following.
Folders
/docker/projects/tautulli-compose




/docker/tautulli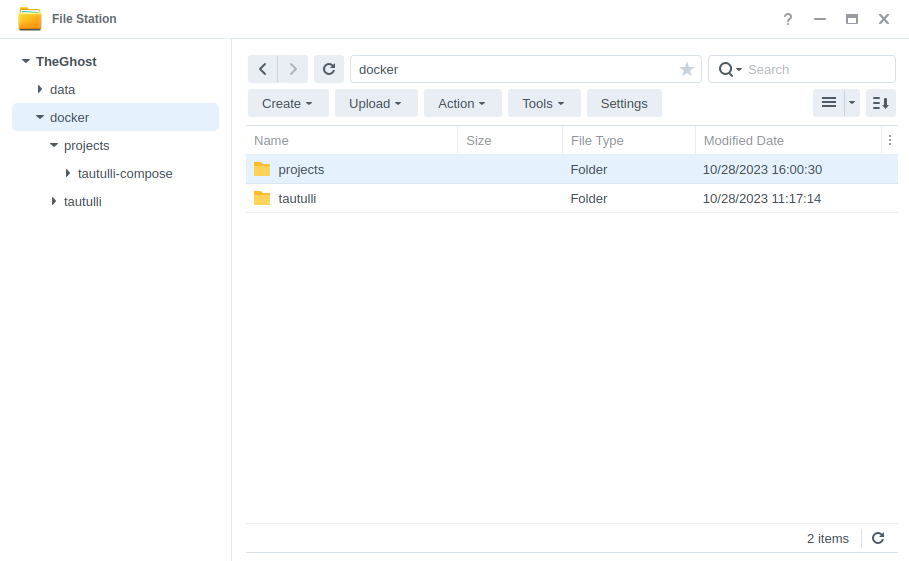 Container Manager
Next we are going to set up a 'Project' in Container Manager. Open up Container Manager and click on Project then on the right-hand side click 'Create'.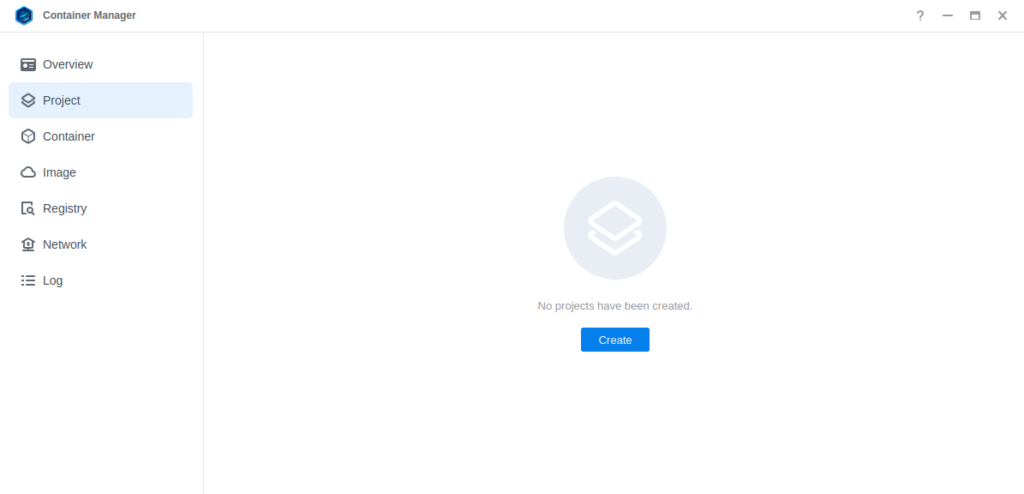 In the next screen we will set up our General Settings, enter the following:
| Section | Setting |
| --- | --- |
| Project Name: | tautulli |
| Path: | /docker/projects/tautulli-compose |
| Source: | Create docker-compose.yml |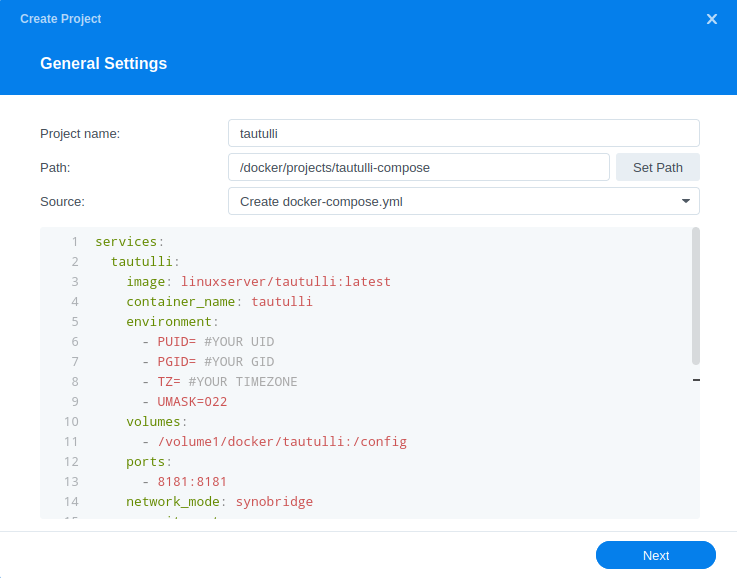 Next we are going to drop in our docker compose configuration, copy all the code in the box below and paste it into line '1' just like the screenshot.
YAML
services

:




  

tautulli

:




    

image

:

 

linuxserver/tautulli:latest




    

container_name

:

 

tautulli




    

environment

:




      

-

 

PUID=1234

 

#CHANGE_TO_YOUR_UID




      

-

 

PGID=65432

 

#CHANGE_TO_YOUR_GID




      

-

 

TZ=Europe/London

 

#CHANGE_TO_YOUR_TZ




      

-

 

UMASK=022




    

volumes

:




      

-

 

/volume1/docker/tautulli:/config




    

ports

:




      

-

 

8181:8181




    

network_mode

:

 

synobridge




    

security_opt

:




      

-

 

no-new-privileges:true




    

restart

:

 

always
Environment Variables
We are now going to amend some key variables to make sure the container has access to our folders and also knows where we are in the world. Don't change any other settings other than those I mention.
Once you have made the edits you can click 'Next'
You do not need to enable anything on the 'Web portal settings' screen click 'Next' again.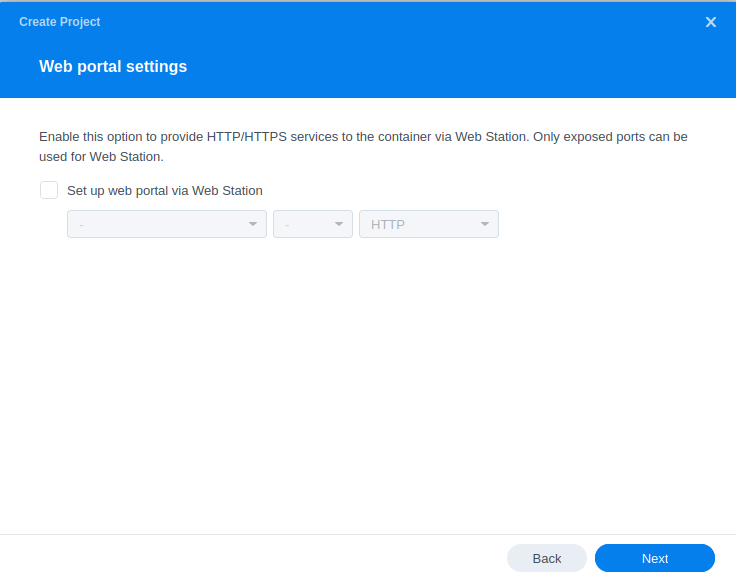 On the final screen click 'Done' which will begin the download of the container images and once downloaded they will be launched!
The image will now be downloaded and extracted. You should see 'Code 0' when it has finished.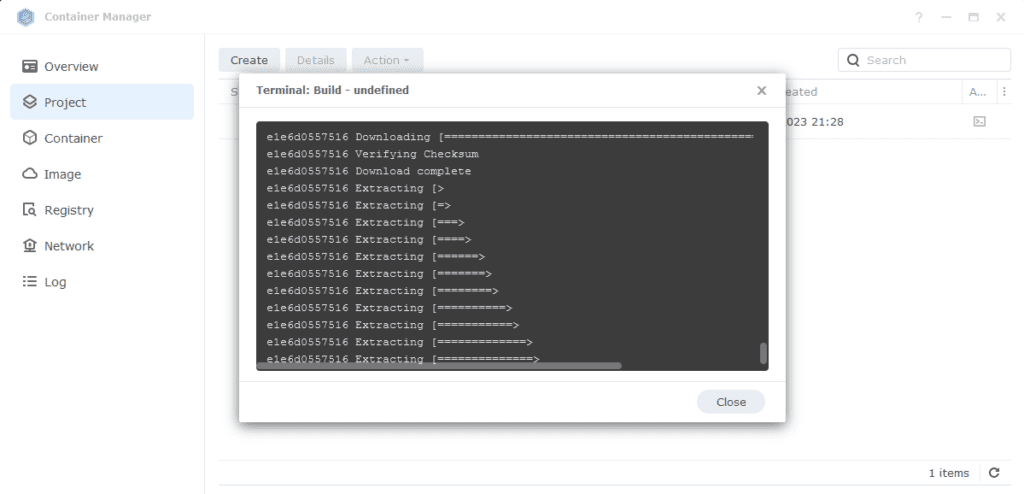 Firewall Exceptions
(Skip if you don't have the Firewall configured)
If you have enabled and configured the Synology Firewall you will need to create exceptions for any containers that have a Web UI or have any incoming or outgoing connections. This section covers the basics of how to add these. (Please note this is a generic section and will not show the specific ports in this guide however it applies in the same way)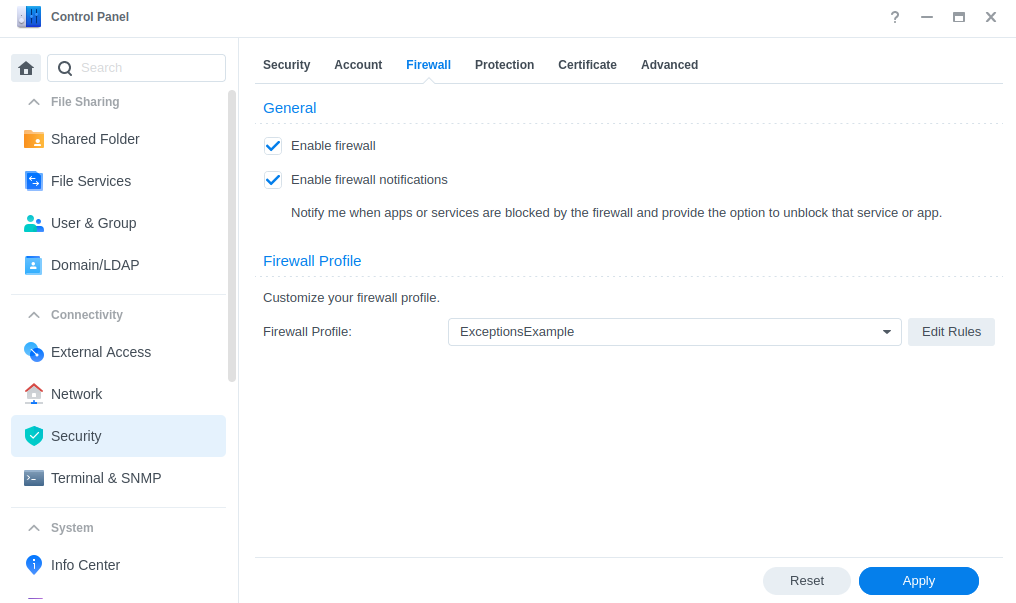 Head into the Control Panel> Security > Firewall, from here click Edit Rules for the profile you set up when you enabled the Firewall.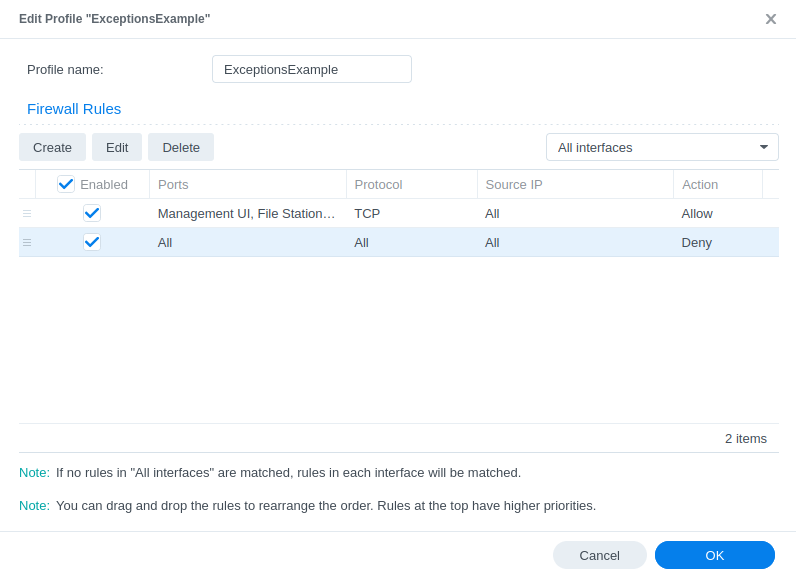 Next click on Create and you will see the screen below. Source IP and Action will be automatically selected to All and Allow, I will leave it up to you as to your own preference on whether you want to lock down specific Source IPs from having access. In this example we will leave as All.
You will now choose 'Select from a list of built-in applications' and then the Select button
Now from the list choose the newly created Docker container (You can do more than one if you wish)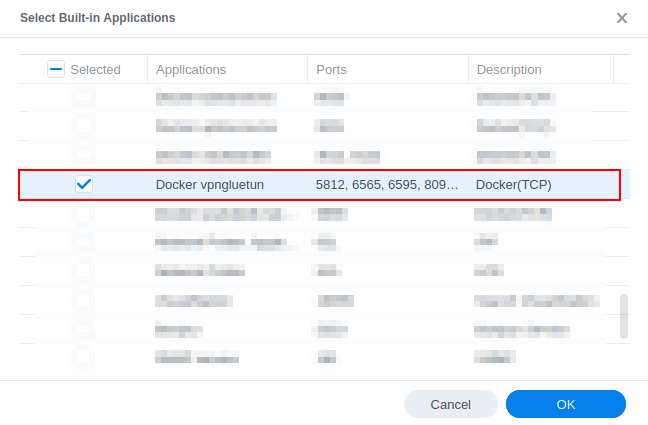 Click OK a couple of times to get back to the main screen. You will see by default the new rule is added to the bottom of the list. You must always have your Block All rule last in the list as the rules are applied top down so move your container up.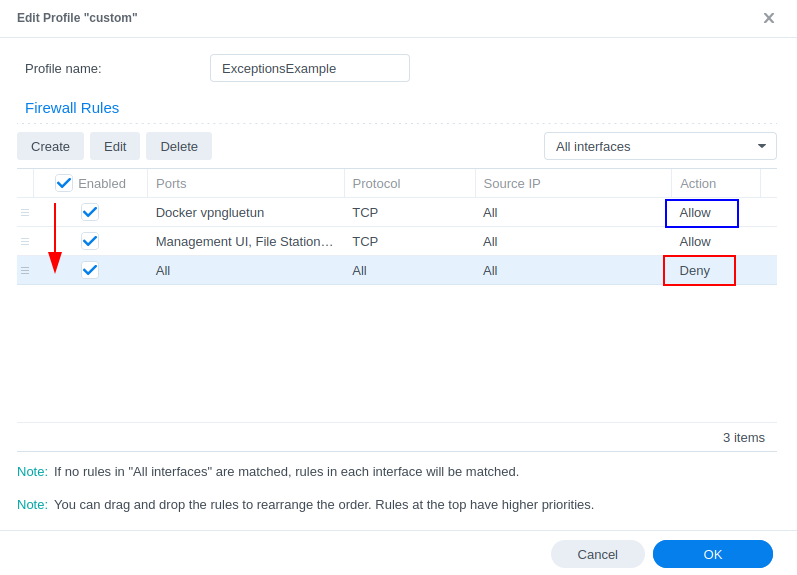 You have now completed the Firewall changes and can continue with the guide.
All Finished
You should now be able to access Tautulli via the IP of your NAS followed by the port 8181 and go through its nice and easy welcome config.
e.g. 192.168.0.40:8181
---
---
---
Buy Me a Coffee or Throw me some Sats
If you have found my site useful please consider pinging me a tip as it helps cover the cost of running things or just lets me get the odd beverage. Plus 10% goes to the devs of the apps I do guides for every year.