Last updated on 7th October 2021
| Update | Date |
| --- | --- |
| New guide for Deluge | 13/09/2021 |
In this guide I will take you through the steps to get Deluge up and running in Docker
In order for you to successfully use this guide please complete the two proceeding guides
Downloading the Container
Open up Docker within DSM and navigate to the 'Registry' section and search for 'deluge' in the search box. Right click and download the 'linuxserver/deluge' image.
When asked make sure you choose 'latest' from the list of available versions
You can check the status of the download over on the 'Image' tab.
Setting up the Container
In Docker click on the 'Image' tab, in the list of your containers select the 'linuxserver/deluge' image and click on 'Launch'
You will now see the initial setup screen, if you want to you can change the name of the container to something else, or if you are using a number of services on a machine with a limited amount of memory or lower powered CPU you can also setup resource limitations, but this is generally not required.
Next up we are going to click on the 'Advanced Settings' button, this will take you to a new window with a number of tabs which we are going to work through.
On the first tab enable 'Auto Restart' this will ensure Deluge will automatically start up whenever you reboot your NAS.
Volumes / Mounts
We can now move onto the volume tab in which we will be specifying the directories where Deluge will store its configuration files and where to download torrents as per the table below.
| File/Folder | Mount path |
| --- | --- |
| docker/deluge | /config |
| data/torrents | /data/torrents |
Click on Add Folder, click on the 'docker' folder and create a new sub-folder called 'deluge' select this folder and click 'select'
You now need to enter /config into the the 'mount path'
Click Add Folder again and this time select the 'data/torrents' folder and click Select.
Now type /data/torrents into the 'mount path'
Network
Leave the Network tab as is you do not need to change anything
Port Settings
This container uses port 8112 for the web interface, so change the local port in line with this, you will also see the container is assigned some random ports for the actual torrent connections, we are going to change them to a 6881 TCP and UDP connections. if you have a 4th port delete it. We will also
| Local Port | Container Port |
| --- | --- |
| 8112 | 8112 (TCP) |
| 6881 | 6881(TCP) |
| 6881 | 6881(UDP) |
Links
You do not need to setup anything on this tab.
Environment Variables
Next we are going to setup some environment variables that docker will use to allow the container access to our files.
Fill in the following details as per the table/screenshot, you will need to do them one at a time.
Almost done
You have now completed the setup of the container, click on Apply to move back to the initial settings screen and then click next, you will be shown an overall summary of the settings we have specified, this is a good time to double check everything is correct.
Finally click on Done and the container should start to boot.
Final steps
As we have used /data/torrents as the mount point for our downloads we need to make sure Deluge uses this same file path.
We are going to do this by just changing the directory settings within Deluge.
Open a new browser tab and go to your NAS ip address on port 8112 (e,g 192.168.0.46:8112)
Deluge by default has the password of 'deluge' to access the web UI, you can change or remove this later in the settings.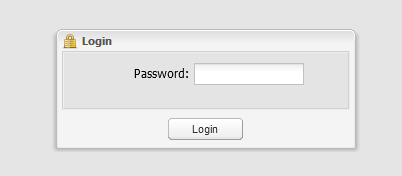 Next you will connect to the Deluge back end, just select the host and click connect, it will remember this going forward.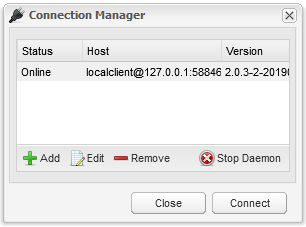 Now you are in the UI click on Preferences at the top of the screen, we are going to change the various folders to the settings shown in the screenshot/table below
| Option | From | To |
| --- | --- | --- |
| Download to: | /root/Downloads | /data/torrents/incoming |
| Move complete to: | /root/Downloads | /data/torrents/completed |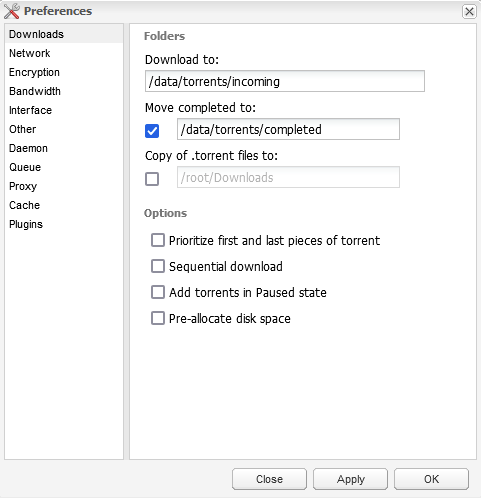 Press apply and hit OK, your last task will be to port forward your router to you NAS the TCP and UDP ports of 6881 to ensure you get connected.
Docker Compose
You can use the below code saved as deluge.yml to do the entire process above in one quick command via SSH. Ensuring you change the variables to your own. (Note you will still need to do the Final Steps section)
Coming shortly
Coming shortly
Throw me some bits or buy me a coffee?
If you have found my site useful please consider pinging me a tip as it helps cover the cost of running the site, you can even buy me a coffee 🙂
Bitcoin
Ethereum
Tether
Xrp
Polkadot
Binance coin
Litecoin
Bitcoin cash
Dogecoin
Tron
Monero
Omisego
Donate Bitcoin to this address
Scan the QR code or copy the address below into your wallet to send some Bitcoin
Donate Ethereum to this address
Scan the QR code or copy the address below into your wallet to send some Ethereum
Donate Tether to this address
Scan the QR code or copy the address below into your wallet to send some Tether
Donate Xrp to this address
Scan the QR code or copy the address below into your wallet to send some Xrp
Donate Polkadot to this address
Scan the QR code or copy the address below into your wallet to send some Polkadot
Donate Binance coin to this address
Scan the QR code or copy the address below into your wallet to send some Binance coin
Donate Litecoin to this address
Scan the QR code or copy the address below into your wallet to send some Litecoin
Donate Bitcoin cash to this address
Scan the QR code or copy the address below into your wallet to send some Bitcoin cash
Donate Dogecoin to this address
Scan the QR code or copy the address below into your wallet to send some Dogecoin
Donate Tron to this address
Scan the QR code or copy the address below into your wallet to send some Tron
Donate Monero to this address
Scan the QR code or copy the address below into your wallet to send some Monero
Donate Omisego to this address
Scan the QR code or copy the address below into your wallet to send some Omisego