Please note if you are using DSM7.2 or higher you should use the Container Manager version of this guide from the menu.
| Update | Date |
| --- | --- |
| Fixed a typo in the ports section for 7359 | 04/07/2023 |
In this guide I am going to take you through the setup of Jellyfin in Docker using the Synology UI. Please note this guide is for anyone that does not have Hardware Transcode abilities on their NAS. You can see the other guide for those that do.
Let's Begin
As usual, it's important you complete the three preceding guides which will get your folder structure and docker, user and bridge network setup.
Downloading the Jellyfin Image
Open up Docker within DSM and navigate to the 'Registry' tab, then search for 'Jellyfin'.
In the list of available containers select the one made by Linuxserver as shown below, right click on it and select 'Download' or click the button at the top of the window.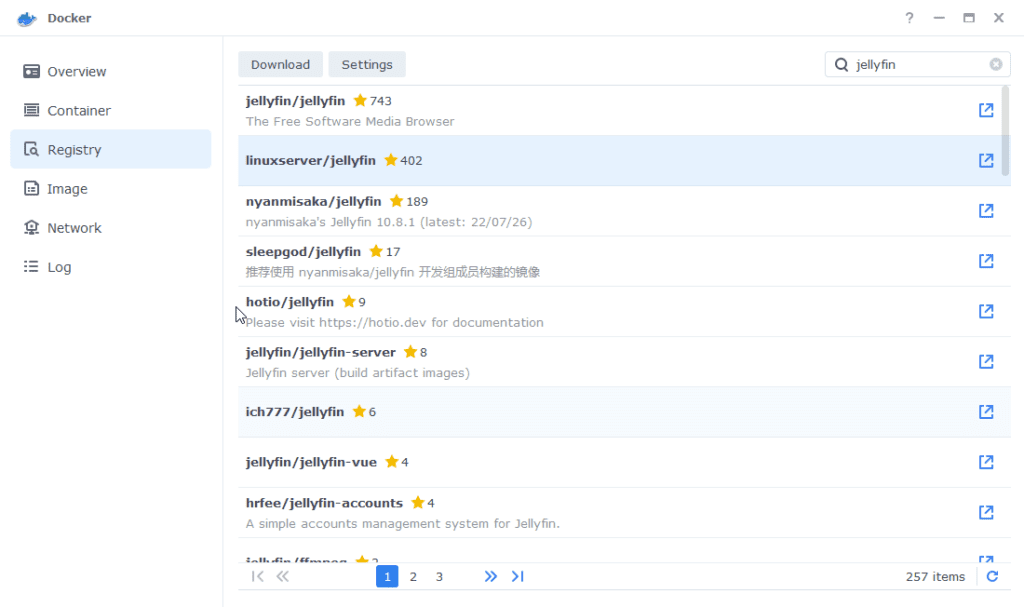 When the dialogue pops up asking you to choose a version, make sure you choose 'Latest' from the list.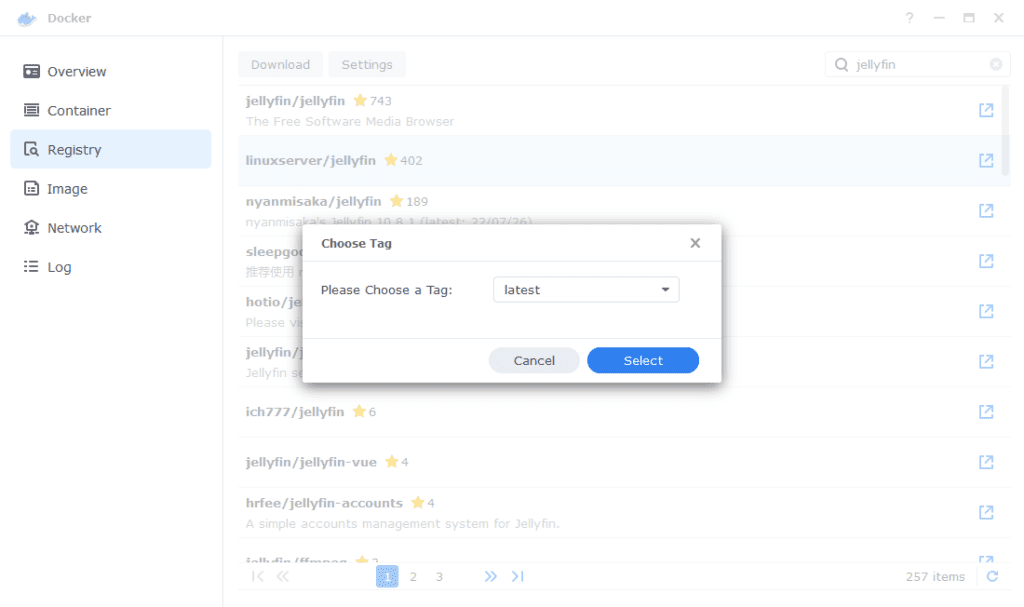 You can check the status of the download over on the 'Image' tab, it will take a few minutes depending on the speed of your internet connection.
Setting up the container
In Docker click on the 'Image' tab, in the list of your containers select the 'Linuxserver Jellyfin' image and click on 'Launch'
You will be greeted with the Network screen, we will be using the 'synobridge' network we created earlier select it from the list and click Next.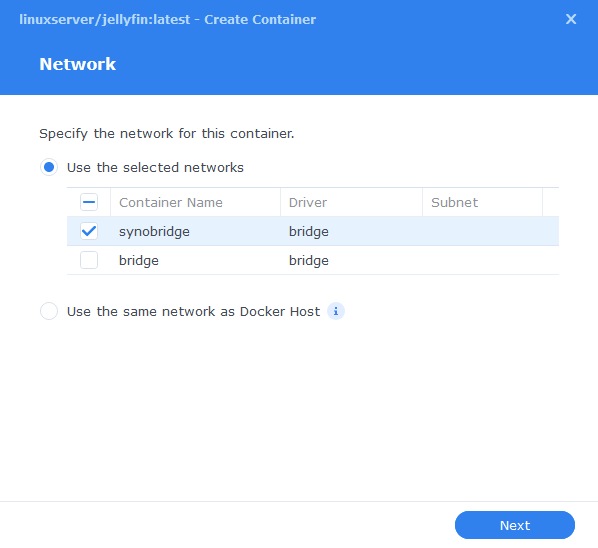 General Settings
Next you will be greeted with the General Settings screen, this is where you can start specifying some of your preferences.
You can change the name of the container to anything you like, and you may want to enable Auto Restart as this will ensure the server starts automatically if you reboot your NAS.
You will also notice a Configure capabilities button — don't change anything in here!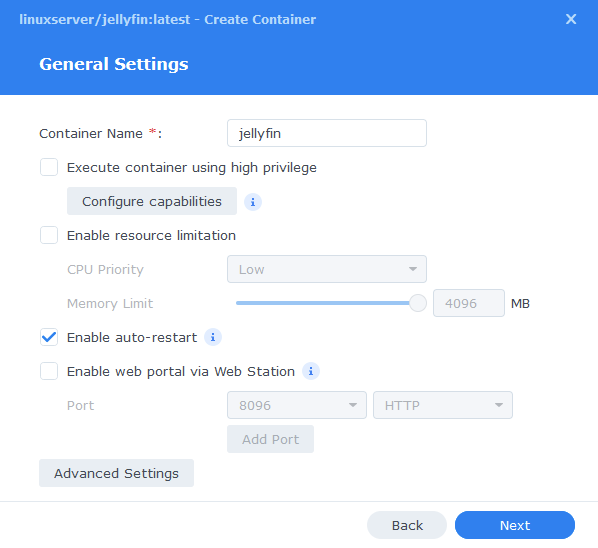 Next up we are going to click on the 'Advanced Settings' button, this will take you to a new window with a number of tabs which we are going to work through.
Environment
Next we are going to set up a couple of environment variables that docker will use to allow the container access to our files and folders and also to tell it where we live in the world.
Click the Add button, and fill in the following details as per the table/screenshot, you will need to do one at a time.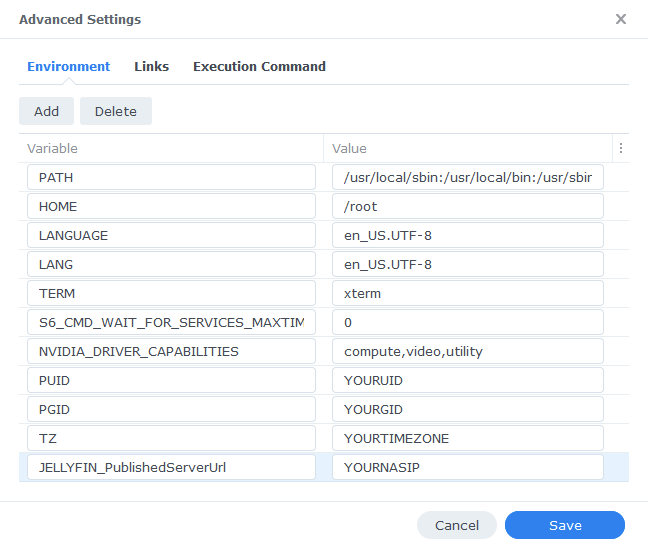 Links / Execution Command
You do not need to set up anything on these tabs.
Press 'Save' to go back to the initial setup screen, then press 'Next'
Port Settings
We are now going set up the containers ports, to start you can repeat the ones shown on the right side of the settings page 'Container Port' onto the left side 'Local Port'
You will then need to click 'Add' and then fill out the details for another port of 7359, again repeat the port number and set it to UDP (this is used for apps to discover Jellyfin on your network) – Your settings will match the screenshot below.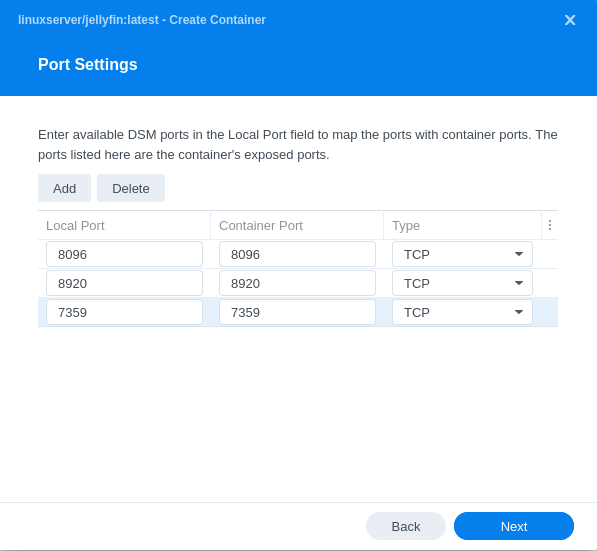 Once you have done this press 'Next'.
Volume Settings
We will now be specifying the directories where Jellyfin will store its configuration files and where to find our media.
Click on 'Add Folder' select the 'docker' folder and create a new sub-folder called 'jellyfin' select this folder and click 'select'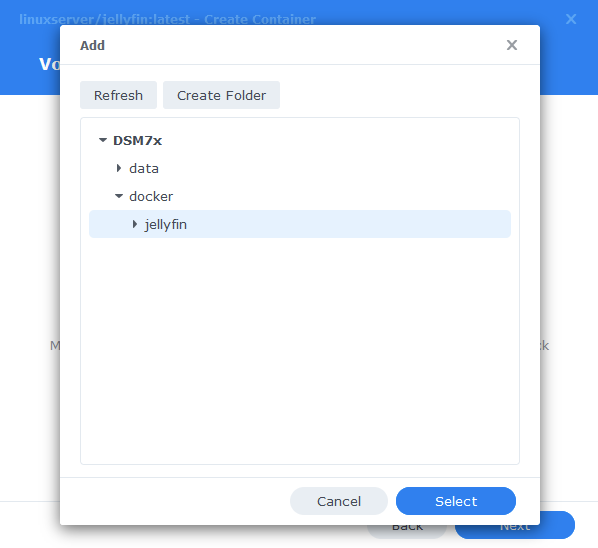 You will now add the below settings into the 'Mount path' section
| File/Folder | Mount path |
| --- | --- |
| docker/jellyfin | /config |
| data/media | /data/media |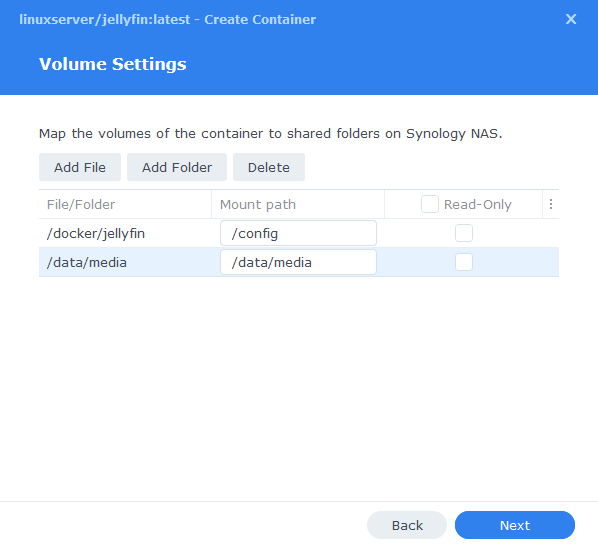 Click Next to move to the final screen.
Summary
You have now completed the setup of the container.
You will be shown an overall summary of the settings we have specified, this is a good time to double-check everything is correct. Finally, click on Done and the container should start to boot.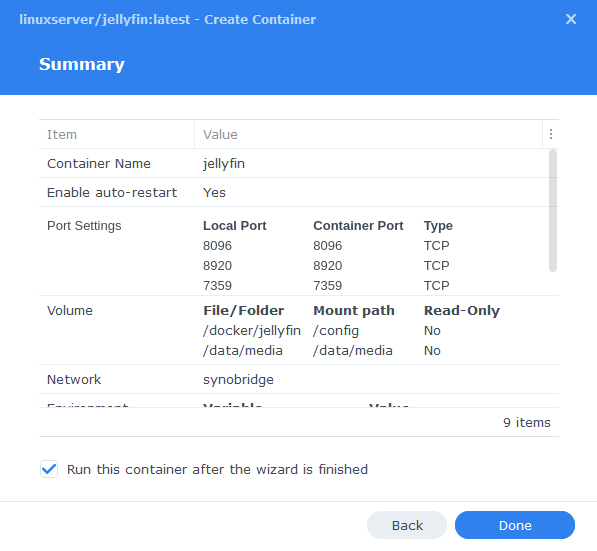 When the container has started you should be able to see Jellyfin running in the list of containers in the Synology GUI.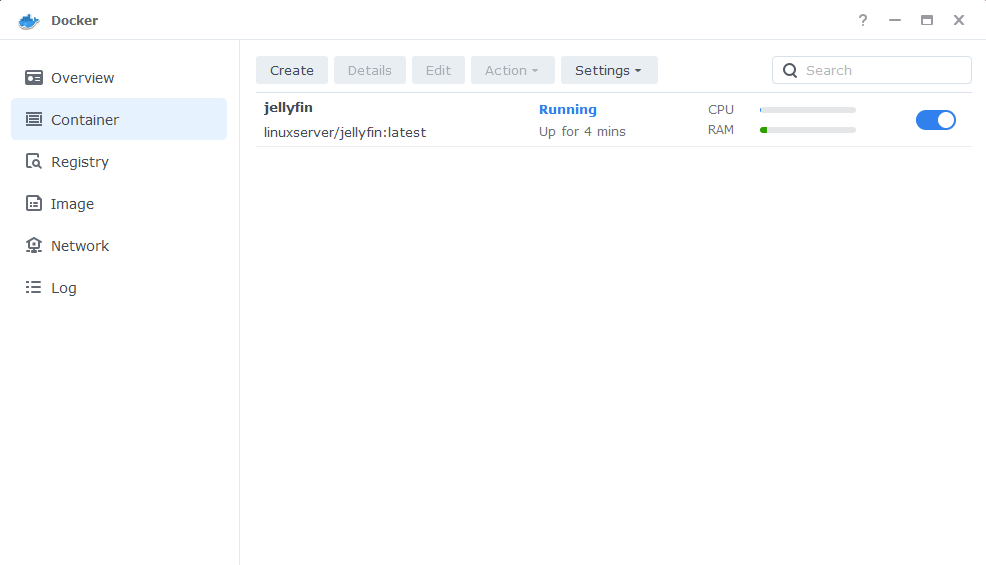 Jellyfin Initial Setup
After a few minutes you should be able to access the server and go through the initial Jellyfin setup by going to the IP of your NAS in your browser followed by port 8096.
e.g. 192.168.0.30:8096
When adding movies or shows they will be located in the /data/media folder.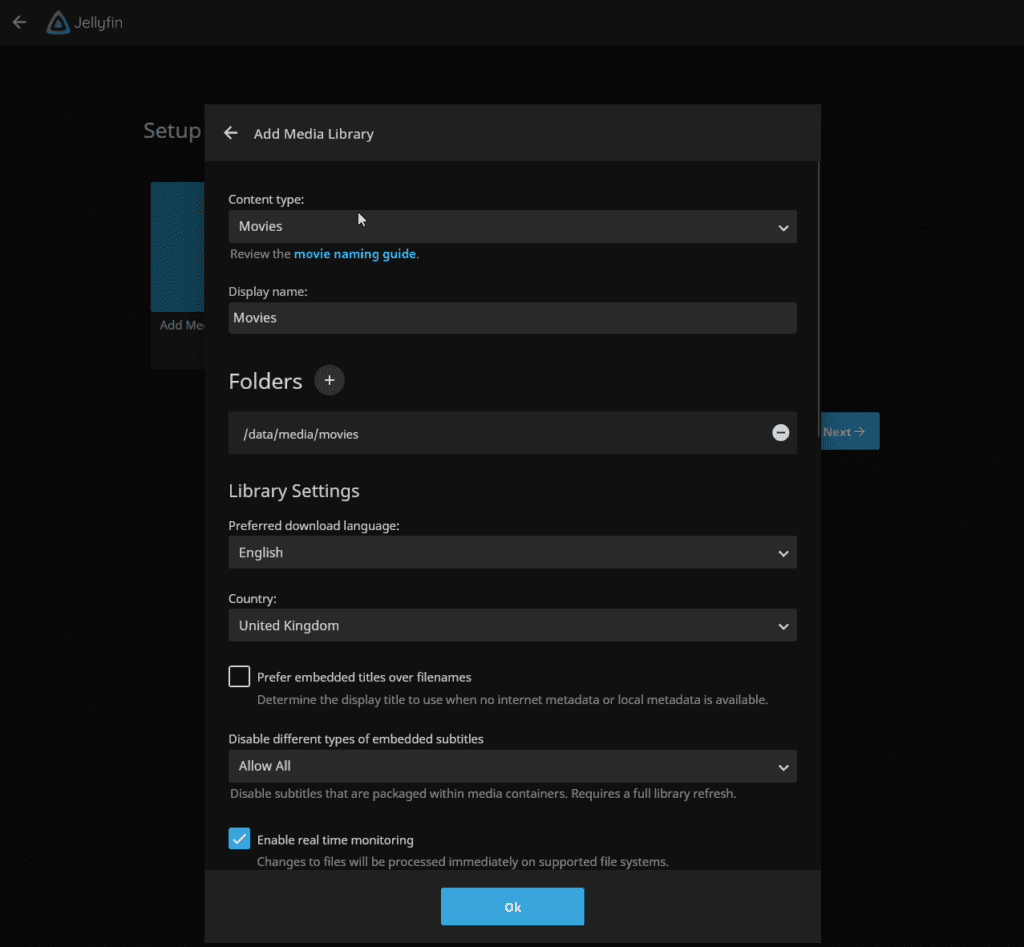 Part 2 – DDNS, SSL and Reverse Proxy
Before we start, make sure you have registered for a Synology Account as we are going to be using their DDNS service. https://account.synology.com/en-uk/register/
In order to successfully use the reverse proxy you will also need to forward port 443 to you NAS IP. (You will need to check how to do this on your own router) This port is used for secure web traffic.
DDNS (Dynamic Domain Name System)
A DDNS address allows you to get external access to Jellyfin via a subdomain provided by Synology, this is useful on home internet connections where your ISP will change your IP address on a regular basis. (If you already have this set up via another guide you can skip to the Reverse Proxy section)
Note: If you want to access DSM via this new address you will either need to create an additional Reverse Proxy for it or open port 5001 on your router.
In the DSM Control panel go to 'External Access' and then to the 'DDNS' tab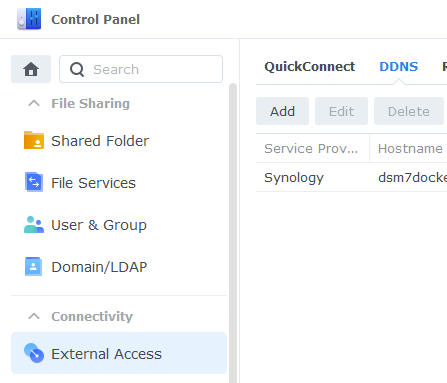 Click on 'Add', then fill out the following sections.
| Section | Value |
| --- | --- |
| Service Provider | Synology |
| Hostname | This can be anything it will be used to access your NAS externally |
| Email: | Log into your Synology account |
| External Address (IPv4) | This should be filled in automatically |
| External Address (IPv6) | This should be filled in automatically if your ISP is using IPv6 |
| Get a Cert from Let's Encrypt | Tick this box |
| Enable Heartbeat | Tick this box |
Now press OK, DSM will apply your settings. It can take a few moments to set up and the DSM interface will refresh. You will likely receive a certificate error which you will need to accept to get back into DSM.
You should now test that you can access your Diskstation via the hostname you requested and not receive any SSL errors.
Reverse Proxy
So you don't have to open up additional ports on your router for Jellyfin we are going to set up a reverse proxy subdomain. This means you and your users can access Jellyfin without using a port number as it will route all traffic through the secure 443 port.
Go back into the Control Panel and access the 'Login Portal' then in the 'Advanced' tab click 'Reverse Proxy' and then click on 'Create'.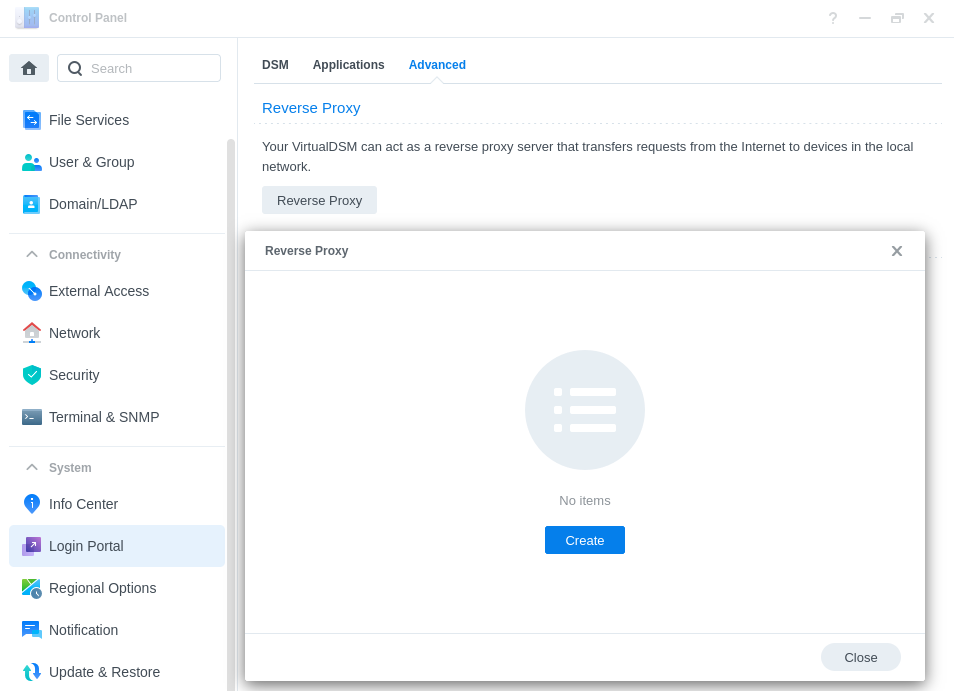 We are now going to enter some rules, so when you or your users access the URL specified the request will automatically be sent to the Jellyfin web UI.
Use the settings below, you will need to amend the Hostname sections in line with the hostname you registered earlier, and the IP of your NAS.
| Setting | Value |
| --- | --- |
| Reverse Proxy Name: | jellyfin |
| Protocol: | HTTPS |
| Hostname: | jellyfin.xxx.synology.me (change the part after 'jellyfin.' to your own hostname you registered earlier. |
| Port: | 443 |
| Protocol: | HTTP |
| Hostname: | Your NAS IP |
| Port: | 8096 |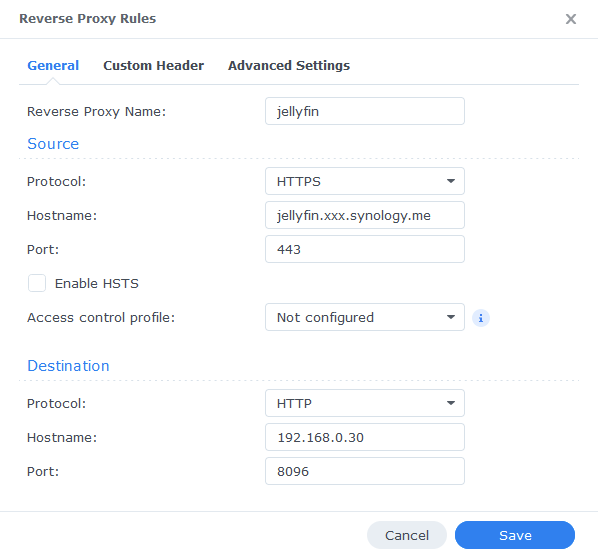 On the second tab 'Custom Header' click on Create then WebSocket, this will add two entries which will force a https connection if you ever try and connect over http, you can now press save.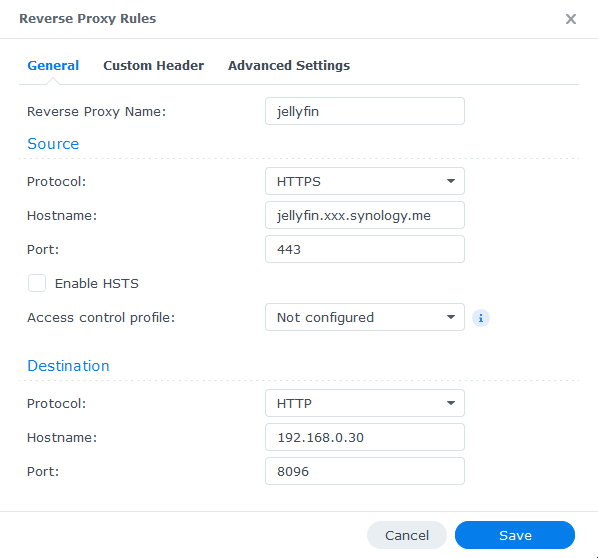 You should now be able to access the Jellyfin login screen to https://jellyfin.yourhostname it will be a secure connection, and you should have no SSL errors.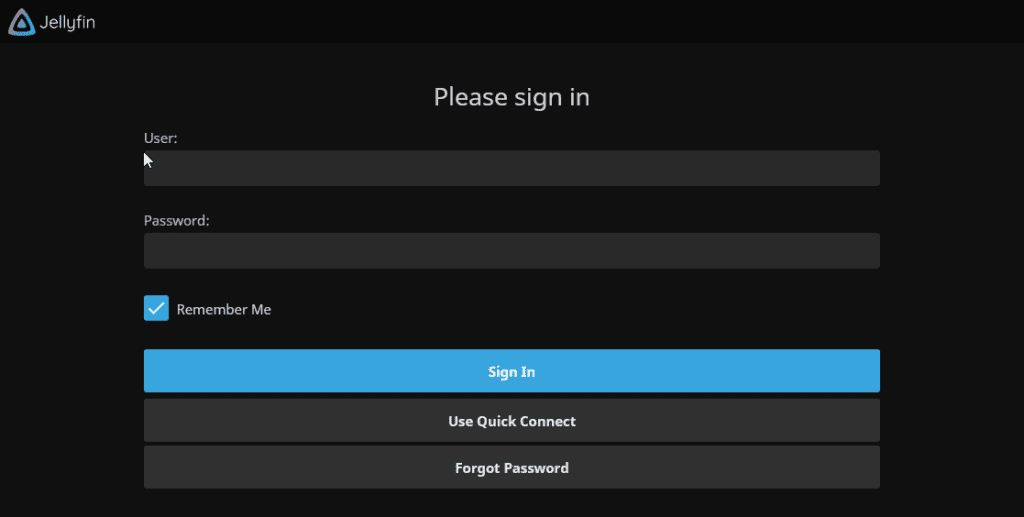 You can now log in with the username and password you created earlier, the same address is used in the Android and iPhone apps.
| Historic Updates | Date |
| --- | --- |
| New guide released | 03/09/2022 |
---
Buy Me a Coffee or Throw me some Sats
If you have found my site useful please consider pinging me a tip as it helps cover the cost of running things or just lets me get the odd beverage. Plus 10% goes to the devs of the apps I do guides for every year.