In this guide I will take you through the steps to download and setup Sonarr.
Downloading the Sonarr Image
The first step is to download Sonarr from within Docker. Open Docker and click on the registry tab, in the search box type 'Sonarr' the version we are using in this guide is from Linux|Server as they are always kept up to date. you can either right click on the Sonarr image and click download, or just click on it once and press the download button.
The image will begin to download in the 'image' tab you can track its progress until the download completes.
PGID and PUID
In the previous versions of these guides I used a long winded approach to getting your ID information, I have since found a much easier approach.
You will need to SSH into your Diskstation using 'Putty' or an equivalent program.
Open up Putty, the only thing you need to enter is the IP address of your NAS and select the SSH radio button.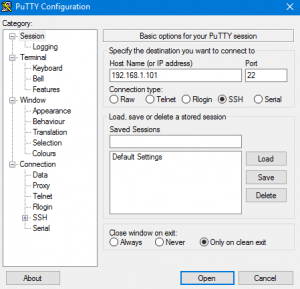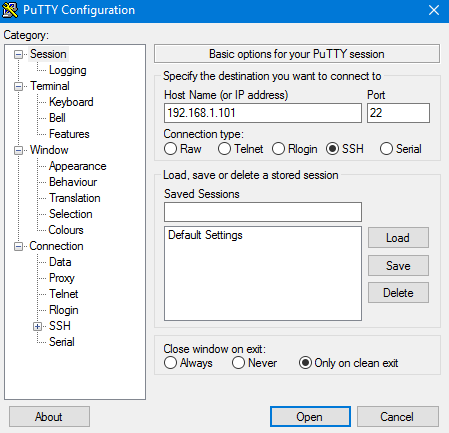 Click on open, you will get a prompt asking if you trust the key, if this is the first time you have used SSH, just press OK or accept.
Enter the login information for you Synology user account, you will not be able to see the password as you type it, I use a very long one so I just paste it in from my password manager. (right click acts as paste in putty)
Once logged in type 'id' without the quotes and this will show your UID(aka PUID) which in my case is 1026 and the GID(aka PGID) which is 101 for an administrator
Setting Up Sonarr
Once the image download has finished, select it from the list and click on 'Launch', this won't actually start things yet you effectively launch the setup process.
As you can see in the screenshot above you will initially need to give your container a name, in this case I just left it as the default, but you can call it whatever you want
I am not making any changes to the resource limitations on my 1815+ as I have 6GB of RAM, just go straight into 'Advanced Settings'.
'Port Settings'
We need to assign the container some local ports for it to be reached on. this is essentially port forwarding as you don't access containers via their usual port numbers.
Whatever you do, don't leave the Local Port to auto, this will mean the container will be assigned a new port number every time it starts, meaning you have to keep looking it up each time you want to access the Sonarr interface
In our case we need to setup two ports for Sonarr, one for its Non SSL port and one for the SSL port (the SSL port is not on by default, you will need to turn this on once Sonarr is up), so to keep things simple I am going to use the next two available port numbers after setting up Sabnzbd in the first guide.
Click the plus icon to add another port then enter:
Local Port = 32800
Container Port = 8989 (Sonarr's Non SSL Port)
Local Port = 32801
Container Port = 9898 (Sonarr's SSL Port)
Leave the 'Automatically assign ports' unchecked,
'Volume'
Click on volumes, we are now going to set up the shares we want to mount. Sonarr needs access to our Downloads, TV and Docker directories.
In your Diskstation Under the 'Docker' share create a folder called 'Sonarr' this is important as your configuration files will be stored here. We do the same thing for all the other guides.
And then also add your downloads and TV folder. It should look like the screenshot below.
Environment Variables (PGID,  PUID and Timezone)
Next we are going to setup a couple of environment variables this is the user details we took note of earlier so the Docker image has the right access to the shares we just added. As well as this a new requirement is that we add the correct Timezone to the container you can do this as shown in the screen shot below, you can find a list of timezone here https://en.wikipedia.org/wiki/List_of_tz_database_time_zones
Now you can click OK which takes you back to the first screen from earlier, click next to see a summary of your setup.
Click apply and your Sonarr container will now start up, give it a minute or so for its first launch.
Now you just need to navigate to your NAS IP and the Non SSL port we setup earlier, once you are in Sonarr you can enable SSL to access via the alternative SSL port we also setup.
Now if you are looking for some help setting up Sonarr itself head over to our configuration guide